Artist of the month
Joshi
Artist of the month
Yu Chuan
Yu Chuan has been living in Helsinki the past four years. His main job is studying but he also DJs at local clubs. The winter here gives him lots of time to watch cartoons and dig for records in his bed.
Yu describes the work done for Post Bar: ''I'm a green snot, strolling through blue winter while seeking for warmth. ''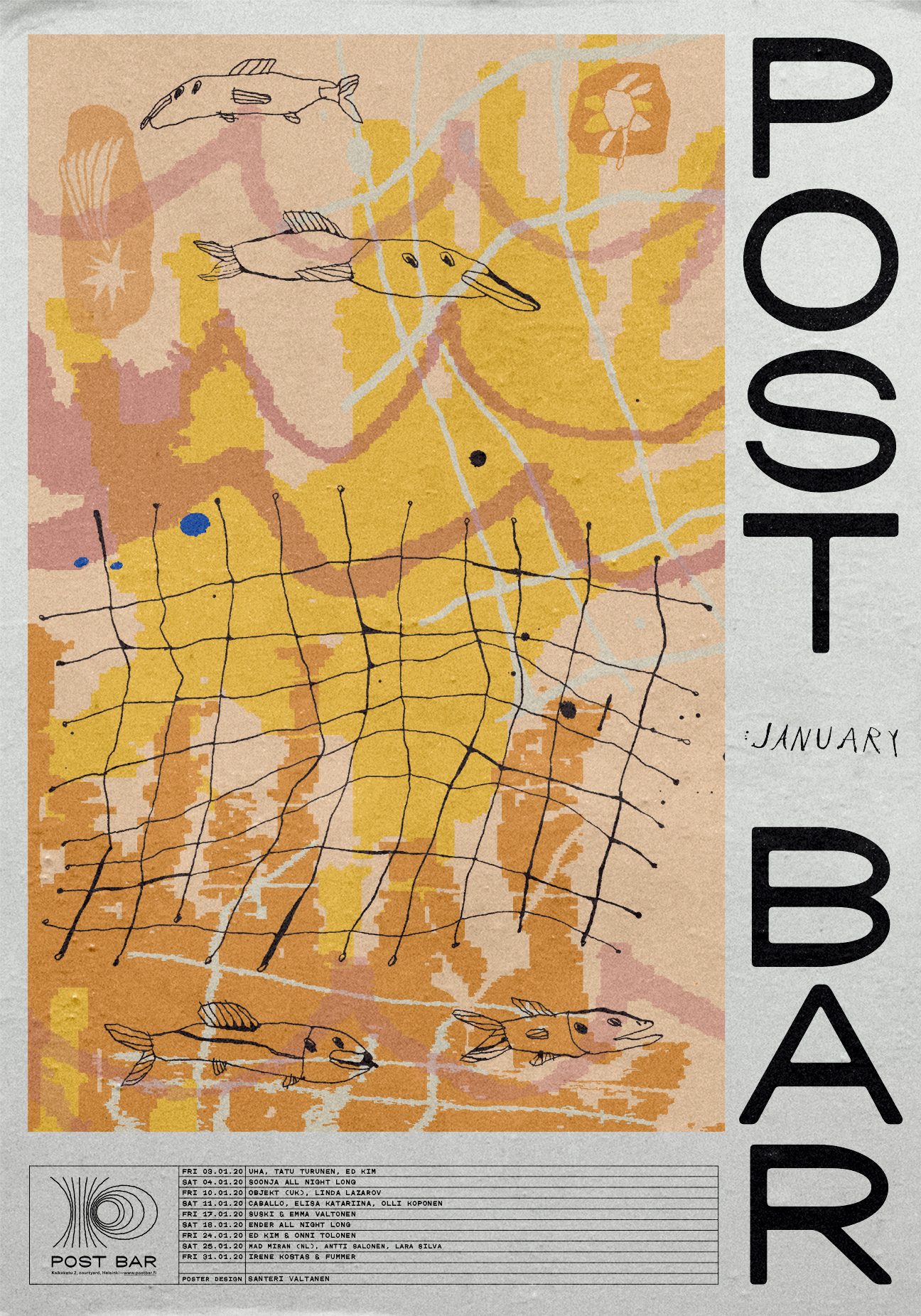 Artist of the month
Santeri Valtanen
Santeri Mortti Valtanen (b.1993) loves you. He also loves carving wood and working with textiles. This Helsinki based designer and artist draws his inspiration from entertaining details of life; nature, internet, movies, sports. By his work, he aims to translate the joy of crafting into the joy of the viewer. He is currently completing his master studies in Aalto Arts.
Santeri describes the work done for Post Bar: "I wanted to use my favorite illustrating techniques, ink and crayons, to create a mellow atmosphere. And I also felt like eating Kalakukko".
Artist of the month
Maisa Immonen
Maisa Immonen is a Helsinki-based 3D-artist and visualist, who also creates Instagram filters. In her art she creates characters and scenarios, through which she explores emotions and identities. Her interests include the thematics of shame and self-assurance and how these are associated with the representation of self and performativeness. Maisa draws inspiration from vibrant colors and organic textures. She uses 3D-technology to illustrate the shapes and forms that are created by the uncontrollable force of nature.
Maisa describes the work done for Post Bar: "I love the festive atmosphere of December and the gemstone colors. The year is coming to an end and it's time to welcome the new year. We'll see what's waiting behind the curtain…"
Artist of the month
Maria Korkeila
Maria Korkeila is a Finnish designer and DJ, currently based in Paris. Korkeila's field of expression is fluid: flowing in, out and in between fashion, music and photography, she proposes a vision that stretches beyond the binary. Following the culture and traditions of punk, deconstruction and DIY, rich textures and hand-worked textiles meet an abundance of color in a coalescence of deviance and sensuality.
Maria describes the work done for Post Bar: Trajectories of dancing bodies on a dimly lit dancefloor. I love people watching at clubs. I keep a mental archive of friend's go-to dance moves. Seeing a familiar moves silhouetted in front of me on the dancefloor makes me feel at home.
Artist of the month
Leo Karhunen
Leo Karhunen drifted into graphic design in the late 90's. One party flyer led to another, and he found he can make a living in design. Since then Leo has created concepts and campaigns, art directed a magazine, designed a load of identities, started a record company, toured with M.I.A., hosted two weekly radio shows and designed a hundred t-shirt graphics. Today he runs his own company Double Happiness, with an emphasis on cultural clients.
Leo describes the work done for Post Bar: Well, it's pretty self-explanatory : )
Artist of the month
Aliina Kauranne
Aliina Kauranne is a graphic designer and 3d-artist based in Helsinki, specialised in pamper and zen. She is freshly graduated from Aalto University where she studied visual communication design and found her love for 3d-graphics.
Aliina describes the work done for Post Bar: My favourite time of the year is fall, because for me it is the season of boots. This poster illustrates a collection of pamper boots, too dreamy to be true.
Artist of the month
Unni Leino
Unni Leino is a graphic designer based in Helsinki. She most often finds her inspiration from sarcastic sentences and word plays.
Unni's visual language springs from retro logos, cartoons, futuristic matter and sports.
In her spare time she enjoys running and telling dad jokes. Sometimes dad laughs.
Unni describes the work done for Post bar:
"Playfulness is something I always thrive for in my work. In this poster I brought to life the essence of this summer, blue skies and popsicles. Featuring the flavours raspberry, orange, blueberry, salty liquorice, lemon, pear and cola. Mm… Tasty!"
Artist of the month
Fredrik Karell
Fredrik Karell is turning 26 in July and it sure is his favorite month. He is a hard-working dreamer and soon to be a graduate from the Design Institute of Lahti. Fredrik is an entrepreneur in the skateboard industry and working as a freelance graphic designer for a couple of companies. He grew up in the archipelago and during free time he prefers to draw, read books and do outdoor activities.
Fredrik describes the work done for Post Bar: "In my latest work I have experimented with the use of wax pastels.In this piece I wanted to create a feeling of timelessness. A space that felt the same in the past as it will in the future, a place to unwind and give room for honesty in forms of thoughts and discussions."
Artist of the month
Paintings
Paintings is rat race after hours.
Forget what you think you should be doing
Expect nothing
Do it together
Learn
Unlearn
No hugging, no learning
Paintings describes the work done for Post Bar: Lounge at the beach, July 2018. Picture from Paintings archive, chosen to prove a point to self that something done in the past can be used now. A lesson to overachieving self that you don't need to start from scratch.
Artist of the month
Niklas Hallman
Niklas Hallman is a 25 year-old-artist and Helsinki city boy who recently moved back to Finland after studying 4 years in the Gerrit Rietveld Academie in Amsterdam. He graduated from the fine art department and has mainly worked in the field of painting and constructive collages since then. His producer alias 'Leppis' also brings out a performative act with a wide spectrum of interests, such as Live Sets and performances. Niklas also has a rather active background in the Finnish/European skate scene and as a young violinist in the conservatory of Helsinki.
Niklas describes the work done for Post Bar: "One of my main cores and sparkles for my way of working is the conscious usage of improvisation. How to leave space for the surprize and yet still be in control. This also relates to my mindset of clubbing. How to avoid the expectations for sensations and find a pure way of being in this environment. The balance of planning and compromises in combination with an ideology of "It is what it is and how to make the best out of it". The moment when you find yourself in the dancefloor surrounded by a packed crowd and still find the way to trance in nothingness is what I was relating to while working with this piece."
Artist of the month
Eevi Kolinen
Eevi Kolinen is a graphic designer from Helsinki and a nearly graduate of Design Institute of Lahti. While she lived in Berlin she found her passion for graphic art and has been enthusiastic about it ever since. The poster for Post Bar is a part of her ongoing Keho -series.
Kindness is the base of Eevi's life and she hopes to spread it through her artwork and other projects. She's a part of Helsinki based MYÖS collective that organises events with the focus on creating a safer places for everyone. The collective wants to increase respectful behaviour, inclusivity and diversity in the local party scene.
Eevi describes the work done for Post Bar: I wanted to capture an ideal moment at a club, where a young woman is dancing carelessly, enjoying herself and forgetting the surroundings without being disturbed.
Artist of the month
SJ Hockett
SJ Hockett is an artist and designer working across various media including creative/art direction, printed matter, illustration, motion graphics and installation as well as publishing projects through the Wonder Press moniker.
SJ describes the work done for Post Bar: "The poster imagery is inspired by my most recent body of work/work in progress entitled 'Eternal Life Motorsports'. The works visually explore concepts of endless repetition and eternity; these themes are easily translated to (something) within electronic/club music. The Coyote infinitely repeats its chase with Roadrunner, the barbed wire links are reiterations with no decipherable beginning, or end."
Artist of the month
Saara Vaniala
Saara Vaniala (1987, Helsinki) is a local babe and self-taught visual artist, musician, writer and philosopher. Her curiosity towards mysticism translates into figurative, yet deeply symbolic artwork that often deals with transformation and evolution. Her mixed-media pieces and their colour palettes are well-thought-out – despite their kooky, pseudo-random look. Digital platforms inspire her (and you might want to follow Saara's posts on Facebook).
Saara describes the work done for Post Bar: "I love clubbing. I need it like I need air. It heals me. Glorious dance music, the humble and celestial arte of DJing, and the beautiful, dancing people. All happening in this precariously permissive setting called 'the club'. In my piece I wanted to show what goes on in Post Bar. To tell a story to those who've never been inside and wonder what it's like, but also to give a cheeky wink to those who frequent the place and know what's up. A map of Post Bar."
Artist of the month
Teemu Keisteri
Teemu Keisteri (1985, Espoo) is a visual artist living and working in Helsinki. He has been getting a lot of attention with his Ukkeli character which he uses for paintings, drawings and unique clothing. Keisteri gets his inspiration from cultural phenomena and Finnish lifestyle and uses often himself as the subject of his art. Besides Ukkeli, Keisteri makes video art, art and dance performances, his own music in the band PEU and DJ shows under the name Windows95Man. Keisteri's videos have won popularity with the internet and social media audiences. Keisteri also has his own art gallery Kalleria in Kallio, Helsinki.
Teemu describes the work done for Post Bar: "I'm really a big fan of 90s/80s rave/house/italodisco record label logos and I wanted to use this Nervous record label logo as an inspiration to my Post Bar poster.
I wanted to do something that is fun, easygoing and what makes people happy, and I'm really happy how it went."
Artist of the month
Landys Roimola
Landys Roimola, (born 1992, Bogota) is a sculptor, who is concerned about the growing problem with waste and recycling. Her sculptures are at the same time relatable, strange and beautiful – like misunderstood creatures that have been pulled from another universe. Dominated by the material, and with some unexpected results along the way, the waste gets a new life in Roimola's hands. The way she used trash as a material grasps the ruthless reality of our time. Reusing and organizing of spurned materials brings out a possibility of hope.
Landys describes the work done for Post Bar: "Working with actual materials is very different from working with 2D surface but I wanted to reach the same feeling of uncomfortableness with this graphic as with my sculptures. The disturbing creature in the artwork got a human kind form and it is watching your back as well as its own."
Artist of the month
Toni Halonen
Toni Halonen is a visual artist currently based in Helsinki. His works play with the moment when an representational image starts to break up in to an abstract picture plane. He has been exhibited and published in various countries internationally and currently continues his studies at the Academy of Fine Arts in Helsinki.
Toni describes the work done for Post Bar: "Its interesting that at least for me an abstract image tends to feel like an actual portrait when it is in the portrait format. Thats why I guess I tend to work more in the landscape size. For this work I tried to step out of my ways, embrace this and accept the feeling of an abstract portrait. In a way I guess we could call it a post portrait…"
Artist of the month
Risto Kujanpää
In his work, Risto's sympathies lie somewhere in between language, symbols and abstract shapes. Based mostly in The Hague, Netherlands he studies graphic design at the Royal Academy of Art, KABK. Some day he will finish a typeface.
Risto describes the work done for Post Bar: "I was thinking how it feels like to be in the mix. To witness two tracks merging together one after another."
Post Bar features monthly artists on the poster and event graphics.
Artist of the Month
Irene Suosalo
Irene Suosalo is a Helsinki based visual artist with a background in photography and moving image. In her work she uses a scanner with various different materials from paper to everyday objects to create images that lie somewhere between figurative and abstract. In addition to still imagery she recently started working as a video jockey for nightclubs and festivals by bringing the scanner works to life. She is also interested in playing with light by creating light installations.
Irene describes the work done for Post Bar: "I chose the colors and hand movement but after that the process was all trial and error. Eventually the images came to be something modern but retro and it felt right."
Post Bar features monthly artists on the poster and event graphics.
Artist of the Month
Matti Vesanen
Matti Vesanen is an animator and director from Helsinki. He likes to combine 3D rendered imagery with screenprinting in his illustrations. By day he runs a studio called VELI.fx which concentrates on art direction and animation. By night he does visuals and installations in venues spanning from the underground to large festivals. He always tries to find time for personal animation and illustration projects to keep things buzzing.
"My idea was to stop the movement of a sunny dancer for a second to capture it in multiple angles." -Matti
Artist of the Month
Braulio Amado
Braulio Amado is a portuguese designer and illustrator living in New York City. He previously worked at Pentagram, Bloomberg Businessweek and Wieden Kennedy. He now runs his own studio, BAD Studio, and works for clients such as Nike, Frank Ocean, New York Times, Wired Magazine, Washed Out, Roisin Murphy and more.
"My idea was to draw a long, weird and abstract heat-wave to celebrate the beginning of the warm and sunny days of Summer." – Braulio
Post Bar features monthly artists on the poster and event graphics.